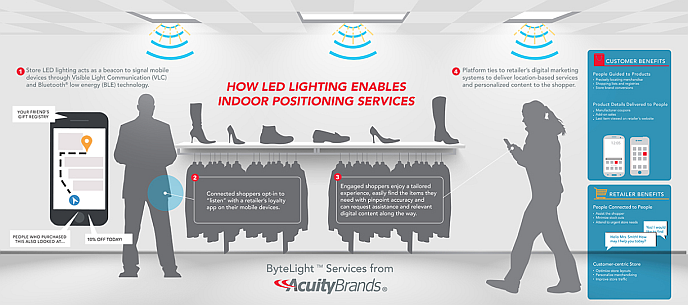 ---
Acuity embeds indoor location technology into retail luminaires
Lighting vendor Acuity Brands said it has built GPS-like indoor mapping and positioning services into LED luminaires for the retail industry, a move that allows stores to guide and track onsite customers around the aisles and ping them with promotions, discounts, loyalty incentives and product information.
The Atlanta-based company is using visible light communication (VLC) and Bluetooth technology it acquired when it purchased patents and other intellectual property in April from ByteLight, a lighting-based indoor location specialist.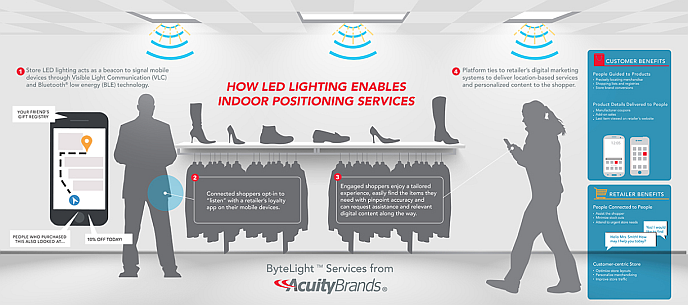 Atlanta-based Acuity said the capability supports a lighting-as-as-a-service business model, in which retailers would store LED-linked customer data in the computing cloud.
"Our LED luminaires enabled with ByteLight technology deliver a superior indoor positioning solution that allows retailers to engage digitally with their customers anywhere in the store," said Steve Lydecker, Acuity's senior vice president of applied integrated solutions. "This new capability gives the retailers the potential for increased revenue and shopper loyalty."
Lighting-based indoor positioning systems could become the greatest thing in retail technology since the barcode. Such indoor location services allow retailers to keep close tabs on a customer's shopping patterns and interests, to extend the digital shopping experience to the brick-and-mortar world, and to engage the shopper through various means.
For instance, a shopper who has written a shopping list at home on an app would upon walking into a store receive a map on his or her smartphone showing where all the products are located. Smart ceiling lights would recognize the shopper when she's next to a specific product under a particular light and offer a discount. The same system could reward her with a free cup of coffee during their visit.
It also supports product tracking, enabling retailers to keep better track of inventory and to know when to replenish shelves.
US retailer Target is experimenting with lighting-based indoor location systems at around 100 stores, as reported by our sister publication Lux Review. It has not identified its technology supplier. It is believed to be sampling both VLC and Bluetooth. France's Carrefour, one of the world's largest retailers, is trialing a VLC system from Philips at a store in Lille, France.
GE has said that it is trialing lighting-based indoor location technology with two retailers in Europe and two in the US, although it has declined to identify them. One is thought to be ASDA, the UK arm of American retail giant Wal-Mart Stores.
GE has worked with ByteLight on some of its VLC trials. It is not clear how the acquisition of ByteLight intellectual property by GE smart lighting rival Acuity might affect the GE trials, or vice versa. Acuity has also been tapping VLC technology from Qualcomm.
VLC makes use of an LED's natural flicker (imperceptible to the human eye) by embedding product information in the wavelength modulation at the root of the flicker. A smartphone's camera picks up the modulation and sends the information to the shopper's app.
Another smart lighting vendor, Gooee, has so far avoided VLC for its indoor positioning offering. Gooee provides a "Gooee Inside" engine for luminaire makers to embed. While VLC can provide more pinpoint accuracy than can Bluetooth beacons in identifying a product's location, Gooee notes that a user must keep his or her phone constantly pointing up toward the ceiling lights so that the camera lens has line of sight. By comparison, smartphones have dedicated, embedded Bluetooth chips that can receive signals as long as they're near the Bluetooth beacon but not necessarily in its sight.
Acuity said it is offering indoor positioning in luminaires and drivers including its:
Traditional recessed grid volumetric architectural luminaire
High-efficiency recessed grid open louvered solution
Open ceiling suspended retail aisle performance luminaire
ECOdrive LED drivers from eldoLED
For the indoor location services industry to take off in a big way, the smart lighting industry will have to prove that they are safe from hackers and that they protect end user privacy.