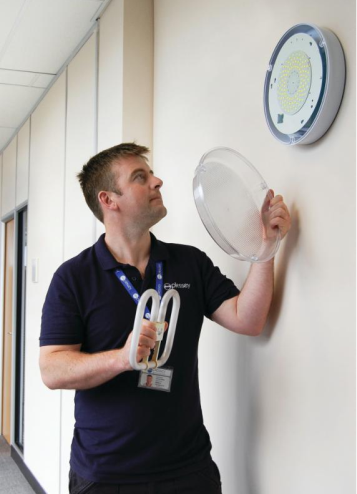 ---
Plessey announces silicon-LED case study, die, and filaments
GaN-on-Si specialist retrofits its Plymouth manufacturing facility with light engines based on its LEDs while also announcing new LED die products and filaments for retro-styled SSL lamps
Plessey has announced that it has retrofitted its LED manufacturing facility in Plymouth, England using modular light engines that integrate the company's gallium-nitride-on-silicon (GaN-on-Si) LEDs. The company also recently announced a new group of blue-pump LEDs that deliver wall plug efficiency of 60%. And Plessey is using its GaN-on-Si LEDs to deliver filament components that solid-state lighting (SSL) manufacturers can use to develop lamps with a classic look with multiple filaments.
Plessey has long been an advocate of GaN-on-Si technology as a way to lower LED component cost through the cheaper silicon substrate, relative to sapphire or silicon carbide, and the use of depreciated silicon IC fabs for the back end of the manufacturing process. The company first shipped its GaN-on-Si Magic (Manufactured on GaN-on-Si I/C) LEDs in early 2013, when output levels weren't really capable of supporting general lighting applications, but the company more than doubled performance in 2013 and has continued to make improvements. Still, neither Plessey, nor any other GaN-on-Si manufacturer, has matched legacy LED performance and few such LEDs have found use in actual applications.
Clearly, Plessey is intent on showing the SSL community that its LEDs are ready for general lighting applications. The company developed its own modular light engines that it is using to retrofit a variety of linear- and compact-fluorescent lighting fixtures in its manufacturing facility. "With recent process enhancements, our LED modules create efficiencies well above existing lighting technologies," said Mike Snaith, operation director at Plessey. "We have not only developed an efficient fixture, but have developed cost-effective ways to implement the retrofits, which is key in the return-on-investment calculation. Generally, all lamps on site are replaced annually. Fluorescent lamps, due to their mercury content, cannot just be thrown in the bin and have to be processed by a special waste facility. Therefore, they also present a toxic hazard when carrying out maintenance should a lamp break."
The company is in the process of replacing 4200 fluorescent lamps that consume 1,000,000 kWh of electricity annually. The company said it took 200 man hours per year to maintain the legacy lighting. The retrofit is projected to save 25% to 40% on energy consumption in addition to maintenance savings.
It's not clear whether Plessey will sell the modules commercially, although many LED makers are in the module business these days. A comment from a company executive would indicate that possibility. "The LED retrofit kits offer the facilities engineers and installation contractors a cost-effective, quick, and easy method to take advantage of the new technology," said Thomas Abbott, Plessey's senior facilities engineer. "Another benefit is the dramatically reduced power consumption. It only takes between 5-10 minutes to retrofit a fixture, and as a result, the emergency light fixtures now require less or smaller battery backup, meaning increased cost savings as well as reduced frequency for maintenance."
LED emitters
At the component level, Plessey announced its second generation of blue LEDs intended for white-light applications with the addition of phosphor. The company first launched blue-pump LEDs in mid-2013 with components that could be driven at 1A. The new family includes products rated for as much as 3A of drive current.
"We have developed a wide range of LED die for a number of applications and our GaN-on-silicon technology works particularly well in higher-power applications such as high bay, street lights, projector lamps, spot lamps, and floodlighting," said Keith Strickland, Plessey CTO. "This current process technology will become the base for our application-specific LEDs, the ASLED, which bridges the gap between LED component suppliers, solid state lighting fixture designers, and the OEMs."
Décor lamps
The other recent Plessey announcement centered on 1×48-mm filaments that consist of a string of LEDs connected in series. The filaments are intended for use in the increasingly popular lamps that include a number of filaments that mimic incandescent lamps styled like antique lamps or what Plessey calls Décor lamps. The filaments deliver 50 lm from 18 mA and have a forward voltage of 76V.
"We have taken our existing chip-scale-packaging technology, also used for our dotLEDs, into a revised format for the filament," said Strickland. "Not only do we have an improvement in terms of manufacturability with GaN-on-silicon and enhanced the power control for filament resistors, but Plessey will also be incorporating other active and passive electronic components for chip-on-board and chip-scale-packaging solutions in the next generation of filaments."
The company said it will ship samples of the filaments in September. Production volumes are due in October.